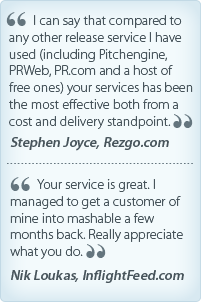 TravPR.com offers an advanced SEO & Social Media press release distribution service for the global travel industry.
TravPR.com provides immediate exposure for your company news in the major search engines, social media sites & news portals.
Get your release in Google News, Google Search, Bing, Yahoo, Facebook, Twitter, Google +, Digg plus many other social media sites, travel blogs & news portals.
Our new Media Pro Service offers direct distribution of your news to thousands of key travel trade press, travel magazines & national newspaper travel editors in the USA, UK, Canada, Australia & New Zealand.